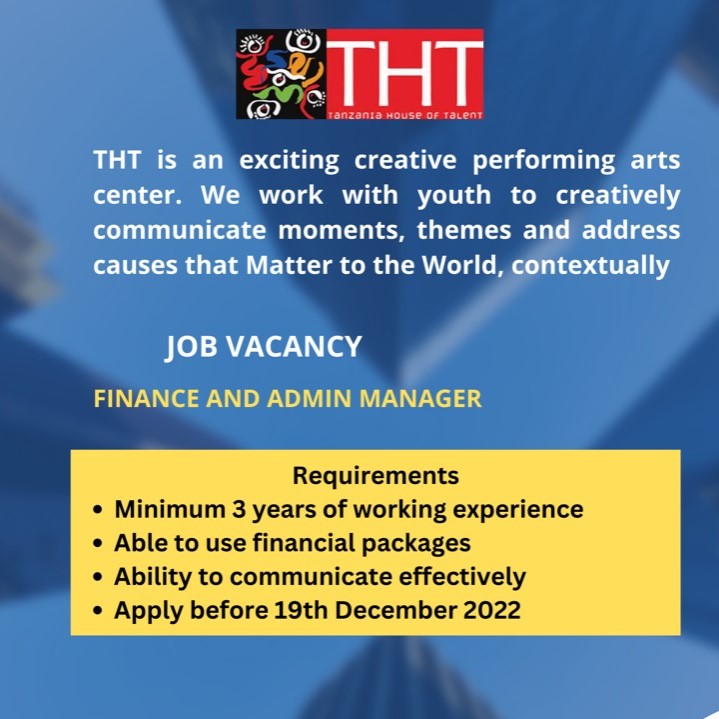 Admin & Finance Manager
Job Title: Admin & Finance Manager
Location: Dar es Salaam, Tanzania,
Reports to: THT Lead
Summary of the Role: 
THT is looking for a passionate Admin & finance Manager capable of planning, direct, supervise and execute all administrative, financial, cooperant assistance, contracts, human resource activities of THT.
Key Responsibilities:
Prepare annual work plans, measurable appraisal performance objectives including training needs based on THT and personal work plans, and quarterly status reports for submission to the THT LEAD.
Supervise the Receptionist, Logistics Officer, the Office Attendant, Guard, including preparation of work plans and performance appraisals.
Manage/file all electronic and hard copy subject and project files to ensure easy access and retrieval.
Maintain good working relations with the THT staff,
In the absence of the THT LEAD, assume the role of Acting Director and exercise the responsibilities of the Director.
Perform other duties and activities from time to time at the request of the THT LEAD.
Experience and Skills Required:
Minimum 3 years of working experience
Minimum Education Bachelor Degree in Finance or related programs
Able to use financial packages
Ability to communicate effectively
APPLY HERE Before 17th December, 2022
Sorry, the comment form is closed at this time.